The Right Balance in your treatment
The Tulip-tip fiber and 1470 nm laser:
Less bruising
Less swelling
Virtually no pain
No nasty taste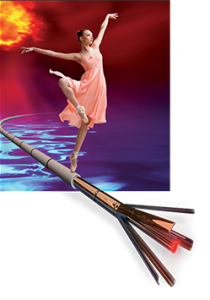 Tilip-tip Fiber

 2009-12IFUTulipV1
TULIP-TIP FIBER

No more Vein Wall Perforations
The first generation EVLA uses bare fibers with an 810 nm laser. Although the use of these fibers and laser is effective, one inconvenience is the direct contact between a very hot fiber tip and the vein wall. This direct contact results in uneven vein wall destruction with ulcerations, perforations and perivenous tissue destruction. Vein wall perforation results in postoperative ecchymosis, perivenous tissue destruction is related with postoperative inflammatory reactions and pain. The 810nm wave- length targets hemoglobin. The result is a lot of carbonised blood in the vein, producing amongst others a nasty taste in the patients mouth and an indirect and uneven heat transfer to the veinwall.
The third generation EVLA uses a centered, non-contact fiber, the Tulip-Tip fiber and a 1470 nm water targeting laser. The Tulip-Tip prevents the hot fibertip from touching and perforating the vein wall and it centers the tip intraluminal to obtain a homogenous effect on the vein wall. The new 1470 nanometer (nm) wavelength laser targets the interstitial water in the vein wall instead of the hemoglobin. 1470 nm laser is 1500 times better absorbed by water then 810nm laser. The Tulip-Tip with 1470 nm laser results in a highly effective treatment with less postoperative pain, very little ecchymosis patient and no nasty taste.
Specifications EVLA kit:
Fiber: 3 m, 600 mu, with Tulip–Tip
Catheter: 6,8 Fr with dilator, 70cm, cm markings
Guidewire: 1,5 m, 0,035", coated
J-tip and straight end
Needle: 18G, 7c m
Specifications laser:
Wavelength: 1470 nm
Power (nominal): 12w
Aiming beam: red, adjustable
Electrical requirements: 100-240VAC; single phase; 50-60hz; 3A; 300VA